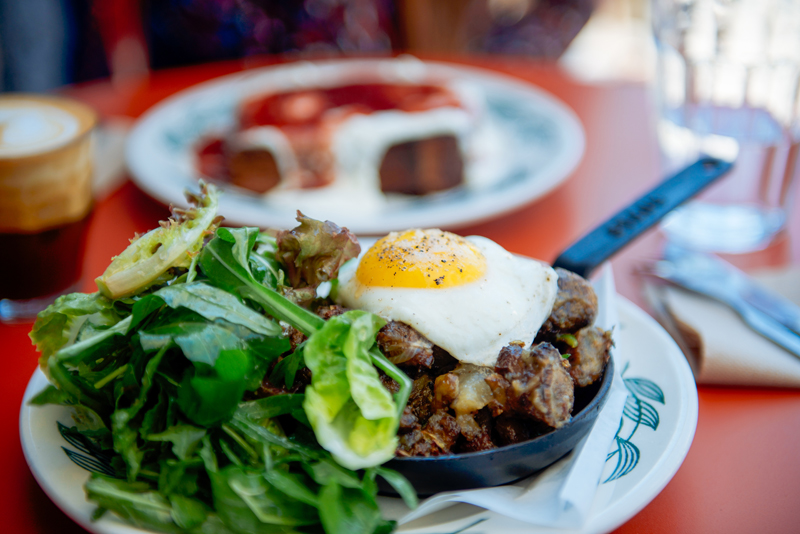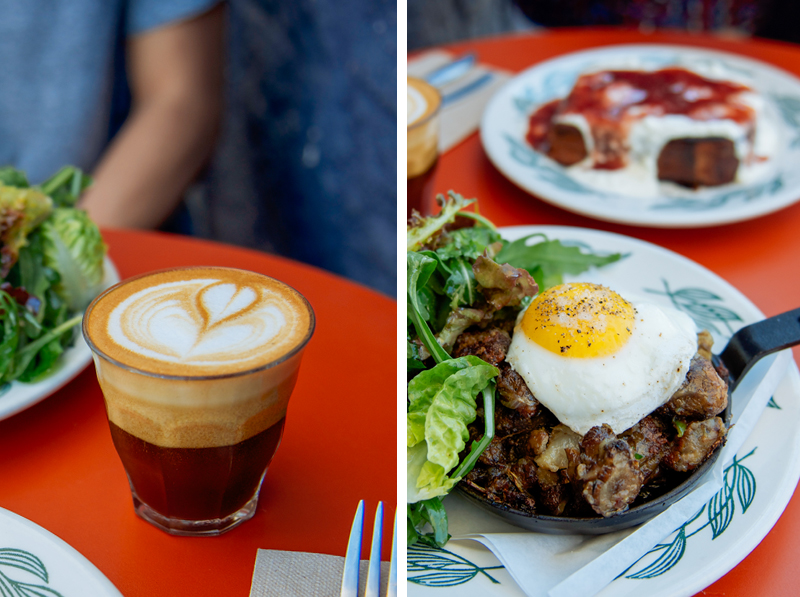 Sunchoke Hash, Almond Milk Cappuccino, and Burnt Brioche Toast
Brunch – my favorite time of the day to eat. To me, the word equates a quiet-but-borderline-lively time in a quaint place, with good food and the best people (the ones you eat with, and even the ones who are just around you- I don't know how to explain it, I just simply love it). I look forward to having brunch often, and when I travel, I make it a task to try as many new spots as I can.
That being said, of all the places I've been and traveled to, I'm going to confidently say that LA does brunch best. Ok, maybe. I'm split between LA and Portland to be honest, but I'm gonna represent my hometown, so LA it is.
Sqirl (Squirrel? Sk-url?) has become one of my favorite spots in LA. There are the big-league hot shots like Blu Jam Café, Manhattan Beach Post, Square One Dining, Cook's County, The Kitchen, BLD & Urth (both a-okay to me), 26 Beach, Milo & Olive, and Bottega Louie (shudders), but there is something about Sqirl that gives it a special element and places it next to my absolute favorite, Square One. Maybe it's the inexplicably understated-cheery atmosphere, but it's probably more about the way the food feels like it's cooked. It just feels natural, and really home-y- uncontrived. Although I appreciate pretty plating just as much as the next person, Sqirl (and Square One, a post on my top spot next time) avoids trying too hard and just… does it. Not saying that the food doesn't look good, because to me, it does. And luckily it tastes as good as it looks.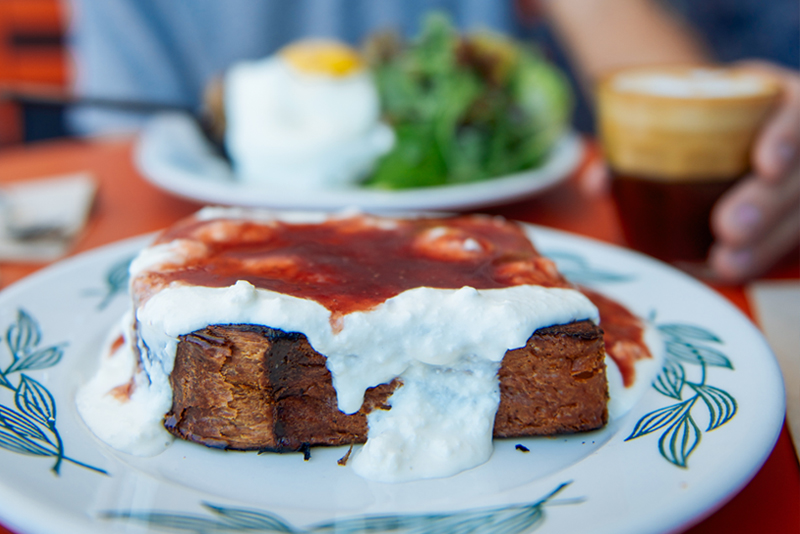 Steve and I decided to order one savory dish, and a sweet one. Usually I'm the one who wants to try a little bit of everything so I eagerly hope that he'll want to order a dish I'd already had in mind (so that I could order french toast or pancakes or something), but it hardly ever works out that way. Almost never… but at Sqirl, we agreed upon sharing the Sunchoke Hash with Fried Egg and their famed Burnt Brioche Toast. Happiness!
Before Sqirl, neither of us had ever tried sunchoke. It's a Jerusalem artichoke (aka sunroot) and its nutritional facts are pretty impressive- one serving contains a good amount of potassium, iron, thiamine (vitamin b1), vitamin c, protein, magnesium, and vitamin b-6. It looks like bloated, pudgier ginger, but they're soft and crunchy and actually really delicious with just the right amount of oil, salt and pepper. Sqirl served it with a delicious fried egg with a runny yolk on top, coupled with a light salad with a tangy vinaigrette dressing. Altogether, each bite was perfect in taste and texture- and the amazing thing about it was that the entire dish tasted like it was made with no more than five ingredients.
The Burnt Brioche Toast, slathered with ricotta and strawberry jam, was equally excellent. I'm usually not a fan of ricotta and can only take it in small doses, but it surprisingly wasn't overpowering- maybe it was the pairing with jam that did the trick? The jam was whoa: fresh, fragrant and sweet but not overwhelmingly so. Altogether, Steve and I enjoyed this very much- the brioche was crisp just enough and still fluffy and warm in the middle even with all that smeared on top. Wonderful working through it with the Almond Milk Cappuccino, too.
I'll be sure to revisit to try their other special dishes. So intrigued with their open kitchen where you can see your dish being cooked right in front of you, and the quaint atmosphere. Hearty, wholesome food at Sqirl, I love it all so far. I definitely recommend!
Sqirl
720 N Virgil Ave #4
Los Angeles, CA 90029
*Notes: delicious sunchoke, homemade organic jams