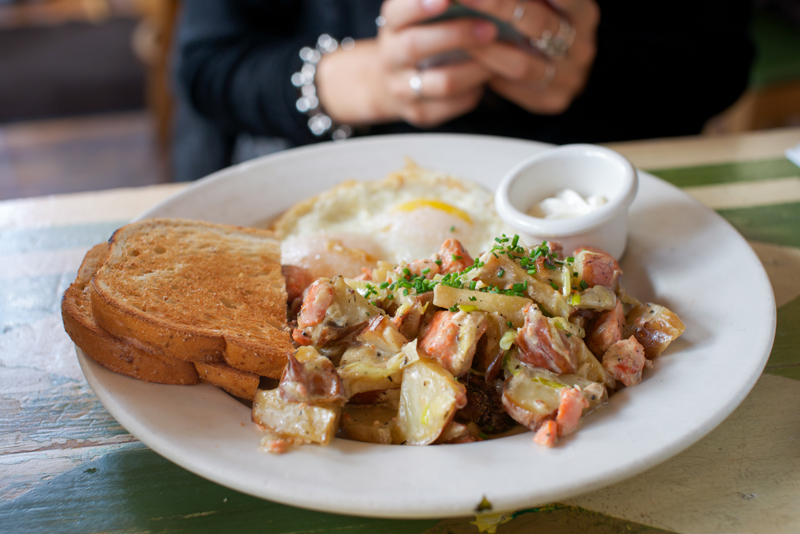 Wild Salmon Hash, French Press coffee from Stumptown, and Biscuit Breakfast
Hello! …from the first post on my first-ever food blog. It's been a long time coming, but I decided to scrap every small effort made towards an old, complex layout and chose out a simple one instead. Just need to get the darn old thing started, you know?
Anyway, I wanted to start off Mangeons with Mother's Bistro, a pleasant restaurant my boyfriend Steve and I tried while we were in Portland in August. (I'd heard good things about Portland's food scene, but I had no idea it was THAT good.) We headed over to Mother's Bistro on our first full day in the city and waited for a good thirty minutes for a table- unfortunately we forgot to make reservations. The place was packed and buzzin' and as soon as we were called for seating, we were led into another room where it was just as crowded–it was insane how big the restaurant really was. Still, Mother's Bistro managed to maintain a cozy atmosphere with the decor and tall, open window space.
Onto the food- Steve and I ordered their French Press coffee (from Portland's own Stumptown Coffee Roasters [who actually just opened their first location in LA not too long ago]), the famed Wild Salmon Hash with two over-easy eggs, and their Biscuit Breakfast with scrambled eggs. More than enough to fill two very hungry people up, probably twice.
The Wild Salmon Hash was, for a lack of a better word, perfect. With the first bite, flavors tasted slightly lacking, but as we worked through the dish, the combination of creamy leeks, potatoes, and salmon with runny egg yolk (you must get the eggs with runny yolk!!), butter and toast was simply delicious. The cream wasn't overwhelming and the potatoes-to-salmon ratio, just right. The texture of Mother's Wild Salmon was phenomenal: melt-in-your-mouth soft but distinctly so from the silken potatoes. I'm a huge fan of leeks, too, and to have it smothered over nearly everything was more than ideal.
Biscuits were another gratifying experience. Holy cow are biscuits amazing in Portland, and Mother's is no exception. All was good, and fluffy, and buttery, and perfect. Combined with gravy that was creamy as ever, with even fluffier scrambled eggs… I didn't think I could ever be that impressed with a plate of biscuits, eggs, and gravy, but at that point at 1:30 PM on a gorgeous Saturday at Mother's Bistro, I was.
Thanks for the satisfying brunch, Mother's Bistro. I was a little skeptical from all of the hype, but Mother's definitely lived up to it. (And yes the salmon hash was worth the wait.)
Mother's Bistro
212 SW Stark St.
Portland, OR 97204
*Notes: organic; reservations recommended.